The spring market has sprung for real estate in Minnesota. For the third year in a row, some home buyers are skipping the home inspection to make their purchase offer more attractive. We don't advocate this, and most real estate agents don't like it either, but it's still happening.
Enter the Walk-Through Consultation
We offer Walk-Through Consultations to help homebuyers who may choose to forego a home inspection. This is a consultation where we walk through a home's interior and exterior with a potential buyer to share our observations, concerns, and insights about the home. Walk-Through Consultations are typically scheduled at the last minute and are short; no more than a half-hour.
Our clients take notes, and we strongly encourage them to get a full home inspection if they purchase the home. That's called a post-close inspection. We've been doing these for a long time, but we got serious about establishing protocols around these two years ago. We've done hundreds of walk-through consultations over the last two years, and our process has remained the same.
Walk-Through Consultation details
Length: 30 minutes. The Walk-Through Consultation takes place with the real estate agent and client present during a showing, which is usually scheduled for 15 to 30 minutes. That's the maximum amount of time for us to walk through the property, so we'll be moving quickly.
Report: No report. Our clients take notes, as we do not produce a report.
Tools: A flashlight. Because this is not a home inspection, we will not bring a ladder into the home to inspect the attic, remove the electrical panel cover, use a combustion analyzer on the furnace, or any of the other jazz we do during a home inspection. This would have the potential to make for some upset home sellers. We've drawn a very clear line in the sand between a walk-through and an inspection.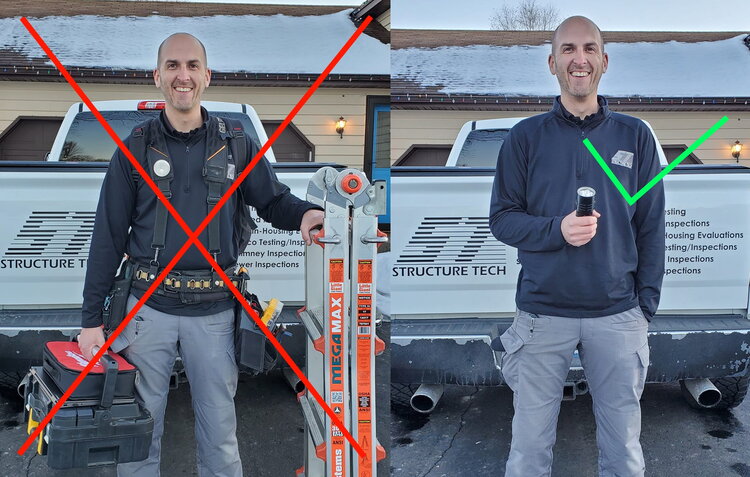 Timing: We receive requests for these on very short notice and do our best to accommodate these requests.
What's covered: We cover as much of the home as we possibly can during this short window of time. To better understand what is covered, check out our interior home inspection checklist and exterior home inspection checklist for details. This is the stuff we focus on, but the amount of stuff that we cover is limited by our time there, the size of the home, and the condition of the home. We also cover specific client concerns, within reason and time permitting.
Price: $200 for the first home, $100 for each subsequent home, provided these showings are scheduled back-to-back, and the distance from one house to the next is less than 5 miles.
Coordinated by: Our office and the buyer's agent. We accompany the real estate agent and the home buyer on the showing but do not set up the showing ourselves. We ask the buyer's agent to notify the seller's agent that a home inspector will accompany them during the showing, but will only be there to walk and talk. As noted, the home inspector will not be performing a home inspection.
What about home inspection standards of practice?
At Structure Tech, we talk a lot about the American Society of Home Inspectors (ASHI) Standard of Practice, which we follow with every home inspection. It's important to make sure your home inspector follows standards such as these when performing a home inspection. A Walk-Through Consultation is not a home inspection, however. It doesn't look, smell, or taste like a home inspection, which is why it's not covered by any organization's home inspection standards of practice. As its name implies, it is simply an on-site consultation by a professional, designed to help answer some of the known unknowns and to shine a light on some of the unknown unknowns. For more information about potential ethical questions, check out Are walk-through consultations ethical? Yes.