We recently accompanied a homebuyer on a showing to do a walk-through consultation on an investment property. The property was a flipped house that had been completely remodeled inside. All new plumbing and electrical fixtures, new appliances, granite countertops, new flooring, and more. The seller did a nice job on all of this stuff and there were no problems with any of it. The exterior looked really clean too; new siding, new roof… what's not to love?
There was a sense of urgency with this walk-through, as the property had just hit the market and already had several offers on it, presumably without home inspections. Final offers had to be submitted within hours of this showing, so there likely weren't any more showings happening after this one.
But the basement…
The basement was one of those "dungeon" type basements that just had a trapdoor leading to a small room. The rest of the house had a very small crawlspace instead of a traditional Minnesota basement, so there wasn't much for us to see. But there was enough. Using a flashlight, the one tool that we bring to these walk-through consultations, we cleared away a decade's worth of cobwebs to get clear access to the crawlspace opening. The part about the cobwebs is important because it gives clear proof that nobody writing an offer on this home had any idea of what was happening in the crawlspace.
Here's what we could see, click on the photo for a larger version.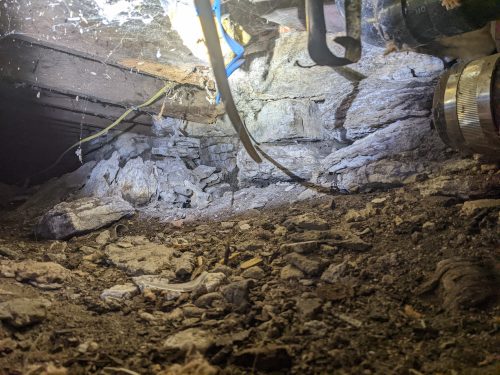 You're looking at a stacked stone foundation that is falling apart. And let's take a closer look at the floor joists, too.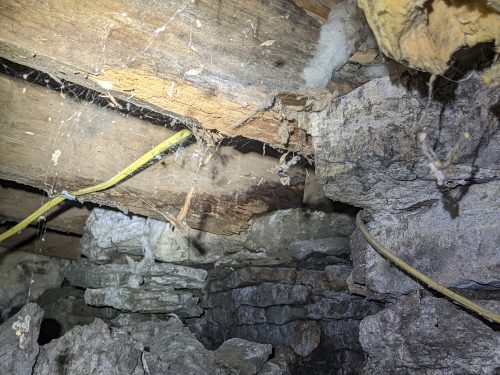 Those joists are rotted and crumbling apart, and it looks like they're wet on the ends. This is bad news. One of the most common questions we get from home buyers is "Does the house have good bones?" For a situation like this, the answer is no. This is something that can be fixed, but it's also something the buyer wasn't interested in taking on. And it's something that none of the people who had submitted offers on this house had any idea about!
My message this week is the same as last week: don't skip the home inspection, but if you're going to do it anyway, at least hire a home inspector to do a walk-through consultation during your showing. We can do a lot with a trained set of eyes and a flashlight.