When it comes to having a chimney inspection or chimney repairs, I only recommend working with a Certified Chimney Sweep.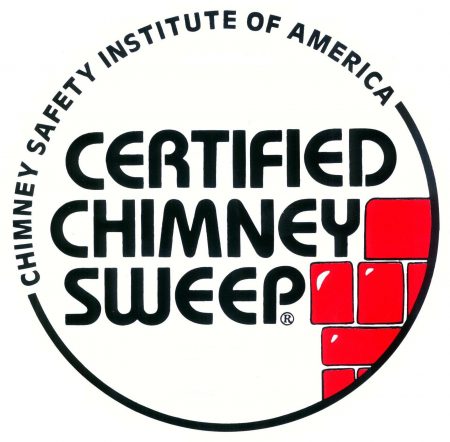 This is a designation from the Chimney Safety Institute of America (CSIA) that has become an industry standard across the country. Just a few weeks ago I had a strange experience that helped to remind me of why I'm so specific when it comes to who I recommend for chimney inspections and repairs. Pull up a chair; it's story time.
Chimney Inspection #1
This story begins with a home inspection at a 1920's house in a nice South Minneapolis neighborhood. Tessa and I identified a typical amount of defects for an old house during our inspection of the exterior; rotted sill plates at the garage walls, a leaking flat roof below a deck, poor grading, etc. Typical old house stuff. Unfortunately, it was a lot more than the buyer had expected we'd find, and the buyer was near her breaking point by the time we finished inspecting the exterior.
A CSIA Certified Chimney Sweep showed up just as we were beginning our inspection of the interior. The buyer had hired this chimney professional to perform a level II inspection of the chimney because there was a wood burning fireplace present. Smart. We recommend a level II inspection on all masonry wood-burning fireplaces when a home is being purchased. The chimney professional was someone I had never met before, so I took some time to chat with him about this chimney, other chimneys, and other chimney companies in the Twin Cities. He didn't have much nice to say about a lot of other chimney companies, complaining that many chimney companies call out minor and inconsequential defects with chimney liners, only to recommend  re-lining the chimneys so they can charge a boatload of money to do the work.
I hate hearing professionals bashing their colleagues, but I know that these types of scams exist. Rossen Reports did a hidden camera story on this exact topic a few years ago in New York, exposing chimney contractors who were making recommendations for unneeded services and repairs. I hope there are no companies in the Twin Cities pulling similar scams.
So anyway, the chimney professional spent a while complaining about how most chimneys are just fine, but proceeded to deem this chimney unsafe for use, and recommended having it completely rebuilt. He said that a liner was out of the question for this chimney because the flue was far too small for a liner.  I took a look down the chimney myself, and I certainly agreed with him; this chimney was just nasty. A large portion of the clay flue liner was completely gone. The first photo below shows that the first three clay tiles are in good shape, although there is no mortar visible at the joints.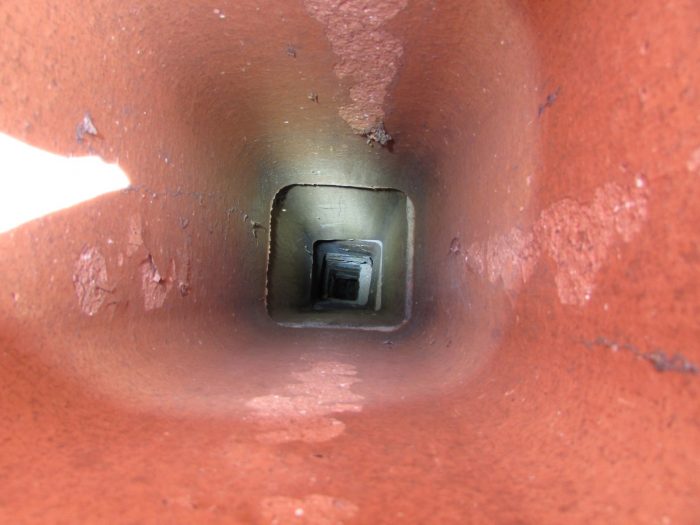 After the first three clay tiles, there is nothing. Just the chimney walls. This is a major problem, making the chimney unsafe for use.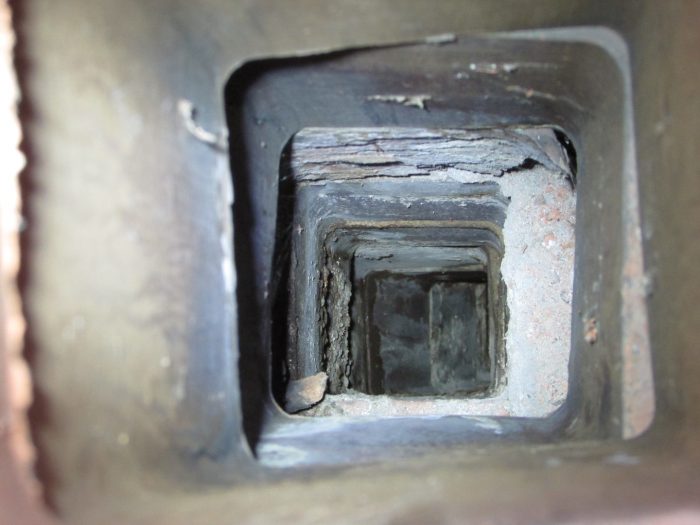 After the buyer received this news about this chimney inspection, she was done. She ended the home inspection at that point and everyone left. A week later is when it got interesting.
Chimney Inspection #2
About a week after my initial inspection, I noticed that one of my inspectors was scheduled to inspect this same house again for a new buyer. The sellers had heard that part of the reason the previous buyers backed out of the deal was because of problems with the chimney, so they apparently hired their own chimney person to give an opinion. Here's an excerpt from an email sent out by the listing agent, giving us a heads up that the chimney should be just fine:
"I have an invoice from (name omitted) Chimney Service verifying that the chimney is safe and in working order. I will send you that as soon as I get the receipt back."
This was quite a surprise, so I immediately replied with an email saying that I had inspected this house a week ago and that I didn't agree with the chimney guy's findings. I asked to meet the chimney guy out at the property, and he agreed.
I arrived at the property before the chimney guy and used my inspector's 28' ladder to climb up the chimney to take a look down the flue. It was in the same condition it was in a week ago. When the chimney guy arrived, he had no ladder and no chimney camera. The buyers, their agent and I were all standing outside, so it wasn't the appropriate time to ask the chimney guy where his equipment was. I just offered up my inspector's ladder and asked the chimney guy to take a look.
The chimney guy climbed up, looked down the flue for a while, then came down the ladder hemming and hawing about how they could drop a liner into this flue that was clearly too small for a liner. I finally asked him point blank if the chimney was safe to use. The chimney guy grimaced and took a long pause before saying "No. This chimney isn't safe to use."
I had a lot of questions that I wanted to follow up with at that point, but they all would have put the chimney guy into an even more awkward position, and the answers really wouldn't have changed anything. I simply thanked the chimney guy for taking time out of his day to come meet us, and he left right after that. I was actually somewhat relieved that he didn't try to say this chimney was safe.
The lesson to be learned is that not all chimney companies are the same. To find a chimney professional in your area who is a CSIA Certified Chimney Sweep, use the locator feature right on the home page of the CSIA website: http://www.csia.org/.
Author: Reuben Saltzman, Structure Tech Home Inspections